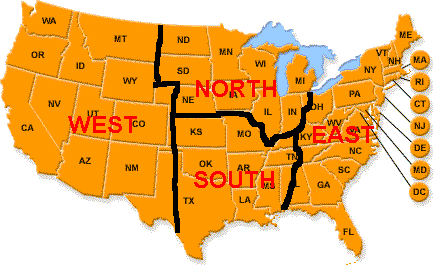 WEST - From Canada south along the west state lines of South Dakota and North Dakota, along the southern state line of South Dakota to Highway 83 South to Mexico
NORTH - From state line of Nebraska, Iowa, Illinois, and Indiana over to Interstate 75 North to Canada.
EAST - From the Gulf Interstate 65 North to Indiana line over to Interstate 75 to Canada
SOUTH - From Highway 83 North to Nebraska. Northern borders of Kansas, Missouri, along southern border of Illinois and Indiana to Interstate 65 South to the Gulf.